What's included in Zadara's Managed Services?
Download the white paper to get the full details of Zadara's powerful Managed Services, designed to take the stress out of storage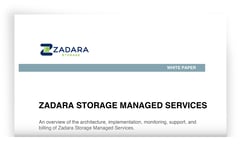 You're probably used to traditional enterprise data storage management with tedious monitoring of performance and throughput, capital-intensive drive replacements and expansions—all with a healthy dose of hope that all goes as planned.
After all, your company's data is one of it's most valuable assets, and making a mistake could lead to serious consequences or in the worst case, fatality to the business.
Instead of leaving your company vulnerable to unforeseen storage crises, place your data in a fully-managed solution and rest easy knowing a 24-hour worldwide support team has everything under control at no additional cost to you.
If your storage instance experiences any unusual activity or altered behavior, you will be alerted right away as our Support Engineers spring into action.
Additionally, each Zadara solution comes with an Immortal Storage Guarantee, meaning Zadara Storage will fully repair or replace any hardware in the event of component failures—at no cost to you.
In fact, you only pay for the storage you consume at any given time.
From economic benefits to peace-of-mind, Zadara Storage Managed Services are designed to take the stress out of storage.
Download the white paper to get the full details of Zadara's unparalled Managed Services